About SMS Vidyalaya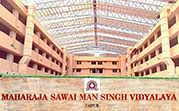 Campus
MSMSV is set in the heart of Jaipur and is proud of its lush lawns, assorted plants and flowers which bring students closer to nature.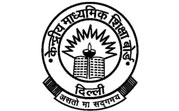 Affiliation
The Vidyalaya is afiliated to the Central Board of Secondary Education, New Delhi.

Membership
Jaipur Sahodaya School Complex, Jaipur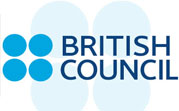 Accreditation
MSMSV is accredited for outstanding development of international dimension in the school curriculum by the British Council.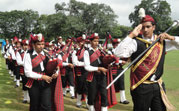 Governing Body
Provides support and advice to achieve high standards and unqualified success through quality programmes and enrichment of learners.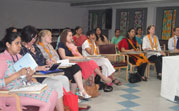 Faculty
At MSMSV there is a tradition of mentorship with students. A strong bond of student-teacher relationship is fostered through positive and constructive attitude of all stakeholders. The staff is well qualified and committed to their calling ready to rise to the occasion, open to change and determined to make a difference in young lives.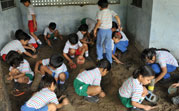 Community Service
School fulfills its commitment to community service in several ways. One of the initiatives in this direction is the adoption of a school in the village on the outskirts of Jaipur. The village school is managed by MSMSV and is an extension of our educational programme to provide a common platform for development of students of the two schools through regular interaction and cooperative learning strategies.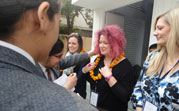 Global Dimension
In addition to an international flavour in the classroom lessons and para-classroon experiences, the school has links with schools in England, France, Singapore. We exchange our learning through joint projects with students in these countries.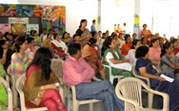 Parent Teacher Interaction
Education is the joint responsibility of teachers and parents. The interaction between the two is facilitated through Open House meetings at regular intervals.
Name of the School
: Maharaja sawai man singh vidyalaya sawai ram singh road, jaipur. 302004
Email
:
msmsvidyalaya@gmail.com
Phone No.
: 0141-2560193, 2567664, 5115206
Fax No.
: 0141-2570865
Year of establishment of school
: 1984
Whether NOC from State
NOC No
: SHIVERA/MADYAMIK/A-TTT/2180/77/85-86
NOC issuing date
: 08/07/1987
Is the school recognized , if yes
: Yes
By which Authority
: Primary and Secondary Education Rajasthan, Bikaner
Status of affiliation
: Provisional
Affiliation No.
: 1730041
Affiliation with the Board since
: 1988
Extension of affiliation upto
: 2025
Name of Trust/Society/Company Registered Under Section 25 of the Company Act,1956. Period upto which Registration of Trust/Society is valid:
Sawai ram singh shilp kala mandir society jaipur
Name and official address of the Chairperson
: Vikramaditya, 17, Kalyan Kunj, Civil Lines, Jaipur
E –mail
:
vikram29a@yahoo.com
Fax No.
:0141-2570865
Total Area (in sq. Mtrs.)
: 16840
Built up Area (in sq. Mtrs.)
: 9450
Area of Playground (in sq. Mtrs.)
: 4820
Other facilities
Indoor games
: 50' X 40' (Game Hall)
Dance Rooms
: 44' X 25¼'
Gymnasium
: 33' X 24'
Music Rooms
: 47' X 16'
Health and Medical check up
: 16' X 20
Transport facility
: Not provided by the school
Mode of payment of salary
Name of the Bank
: HDFC Bank
Through single cheque transfer advice
: Yes
Library facilities
Size of the Library in sq.feet
: Sr. Library – 49' X 40' , Jr. Library – 35' X 30'
No. of Dailies
: Hindi: 5, English: 5, Total -10
No. of Reference books
: 30,000 (Thirty Thousand)
No. of Magazines
: 70
Name of the Grievance/redressal officer
: Mr. Niranjan Singh
E-mail
: adminofficer@msmsvidyalaya.in
Phone
: 0141-2560193
Fax No.
: 0141-2570865
Internal Complaint Committee of the School, under Section 4(1) of the Prevention of The Sexual Harassment of Women at Work Place (Prevention, Prohibition and Redressal ) Act 2013. And appoints following members :
Name
Ms. Asha Mathur
Mr. Sanjeev Sharma
Ms. Anju Mukesh
Ms. Riddhi Chandravat - Representative of NGO (Abhyuthanam Society)
Admission period
Preprimary
: Between January and February
Primary
: Between February and March
Middle
: Between April and May
Class XI
: After declaration of Class X Board result