Activities
House System offers a wide range of curricular activities in which students play a pivotal role. For this purpose the school is vertically divided into Houses, namely Bharat, Eklavya, Prahlad and Shravan. Classes I and II are divided into Luv, Kush and Dhruv Houses. Every pupil is assigned to a House. The House activities in school are planned and organized by our School Team. Students, in consultation with the teachers, carry out the responsibilities of organizing the Morning Assembly, the Wall Magazine, News and Thought Board and General Discipline to name a few.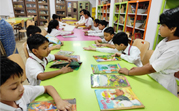 Clubs
The Literary Club taps the dramatic talent and organizes cultural activities. The members participate actively in bringing out the school Magazine and the Vidyalaya Spectrum, a monthly newsletter. The Science Club and the Commerce Club inspire a spirit of enquiry and analytical thought among the students. The Environment Club is active in spreading the environmental consciousness in school and among the community. There are workshops for recycling paper and block printing in school. Senior students are actively involved in cultural and community service as members of the Interact Club.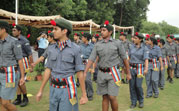 NCC
NCC of the Air wing is open to boys and girls from class VII onwards.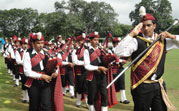 Band
There are two contingents. Brass Band and Pipe Band for boys and girls. Participation in NCC and school Band are optional.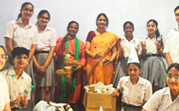 Conservation
Our Vidyalaya has always been a pioneering school to initiate environmental activities and campaigns on pertinent issues affecting our society. The Conservation group started in 1995 firmly believes in creating a society of motivated citizens committed to conservation, preservation and protection of the environment and striving towards a life in perfect harmony with nature. Mansinghite conservationists are actively involved in the ongoing eco-drives.
Enrichment Programmes: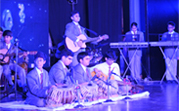 Spicmacay
Society for Promotion of Indian Classical Music and Culture amongst Youth provides abundant enrichment to the Vidyalaya family.
The regular performances by renowned artists as well as workshops
in classical art instills in the students appreciation for classical music and art.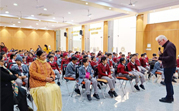 Life Skills Programme & Adolescent Education Programme
The objective of this programme is to promote a balanced growth and development of the child. It helps the child to understand self and possess the ability to face challenges, to live life as it comes and to enhance the quality of life.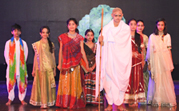 Theatre and Curricular Activities
Theatre forms an integral part of the curriculum. Art, Music, Dance, Craft and Yoga are compulsory part of the curriculum upto Class V.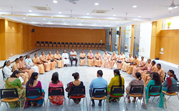 Cultural Exchange Programme
with schools abroad gives a global dimension to the school ethos.