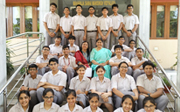 Class IX & X
Subjects:
All compulsory
Languages:
English, Hindi / Sanskrit / French
Science & Technology:
Integrated Science with Physics, Chemistry, Biology
Social Science:
History, Civics, Geography, Economics, Information Technology, Work Education, Art Education, Physical Education, Health Education, Environment Education, Personal & Social Education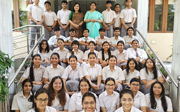 Class XI & XII
Following subject combinations are being offered at Senior Secondary level (10+2) in the session 2021-2022. Students are required to choose one elective subject from group 3&4.
Compulsory subject
Elective Subjects
Stream
Group 1
Group 2
Group 3*
Group 4*
Humanities
Geography / History
Political Science
Economics Mathematics Applied Mathematics Computer Science
Biology
Painting
Entrepreneurship
Economics Mathematics Psychology Physical Education
Science
Physics
Chemistry
Commerce
Accountancy
Business Studies
ENGLISH CORE is compulsory for all streams
*select one elective subject each from Group 3&4
Objectives
Prepare students for the CBSE Examination so that students gain admission to prestigious universities of their choice.
Foster high academic achievement through the study of a range of subject choices offered.
Strengthen students' effective study skills and high order thinking skills.
Encourage students to critically evaluate information.
Promote strong communication skills and development of personality.
Develop an awareness of the media and competence in computer application.
Foster social development, cultural awareness and genuine understanding of other traditions.
Promote responsible and caring citizenship through a programme of community service.
Instill a sense of responsibility to promote liberty, justice and protect one's and others' right for common welfare.
Enable students to make right lifestyle choices through health, social and adolescent education programme.
Enhance in them a sense of ethical leadership and develop the skills.
Enable students to plan their future careers and help them in their preparation.
The Senior school programme prepares the students for the All India Secondary School Examination (AISSE Class - X) and All India Senior Secondary Certificate Examination (AISSCE Class - XII).
The Curriculum
In addition to fostering high academic achievement through a choice of a wide range of subjects, the Senior School programme requires the participation in activities beyond academics which include sports, cultural activities, workshops and community service. Field trips, guest lectures,career guidance and students exchange programmes are planned to provide an enriching learning environment.